---
Industrial real estate investments can be an excellent addition to an individual or corporate entity's overall investment portfolio. The larger category of commercial real estate offers a range of investment opportunities for increasing wealth and contributing to economic development.
What is industrial real estate?
Industrial real estate is one of the four primary types of commercial real estate – office, industrial, multifamily, and retail. More specifically, industrial real estate generally includes properties developed for manufacturing, consumables production, supply chain logistics, and warehouses where goods are stored.
Industrial real estate developments are the origin of millions of goods and products within the supply chain. According to Cushman & Wakefield's national research, robust demand for industrial space will continue well into 2023. In Louisville, we have over 178 million square feet (msf) of industrial properties, with approximately 9.6 msf of additional industrial real estate currently under construction, with 2.8 msf either pre-leased or built-to-suit (bts).
Tangible examples of industrial real estate properties include: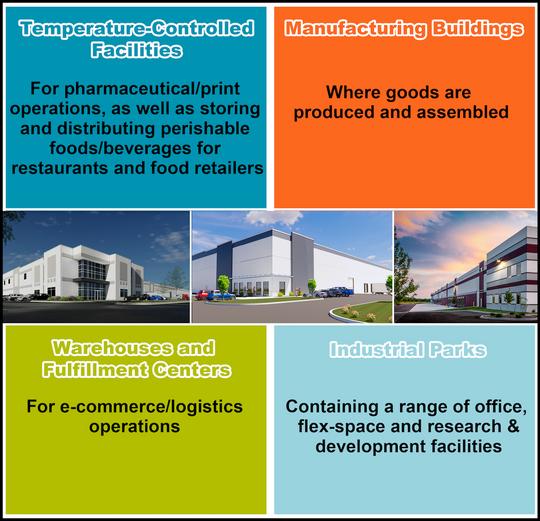 How do I start investing in industrial real estate? Where do I begin?
First and foremost, find a proven commercial real estate broker in Kentucky who can guide you in identifying potential industrial real estate investments. In addition to getting started with a real estate broker, you can browse industrial properties online or simply drive through areas of town that may have what you want. However, some of the best industrial property investments are often "off market." That's where hiring a commercial real estate broker in your area is worth every penny.
Throughout the process of pursuing industrial real estate investments, you'll need to consider several factors. Do you want to develop an industrial property from the ground up in a suburban or rural area where large plots of land are available? Or perhaps you'd prefer to purchase an existing industrial property whether occupied or vacant. The market knowledge from a commercial real estate broker will be able to guide you in the right direction.
Other factors to consider when contemplating industrial real estate investing
Lease Type (full-service, net lease, triple-net lease).
Market value or value-add purchase.
Class A, B, or C industrial buildings.
Location considerations. Will your investment property be close to necessary infrastructure, airports, distributions centers, or other logistical resources?
The Kentucky advantage
Logistics and manufacturing tenants benefit from Kentucky's proximity to numerous interstates, riverports and rail lines, as well as end users directly. Strategically located within a day's drive of over half of the U.S. population, coupled with UPS Worldport handling 400,000 packages per hour, Louisville is highly desirable for industrial users.
Why industrial real estate investing?
At the time of this writing, industrial real estate is one of the most active sectors in the marketplace. The need for industrial space is steadily increasing, primarily, because consumers are buying more and more products online, which has shifted supply chain strategy to prioritize direct to consumer distribution centers and logistics operations throughout the country. Other reasons to invest in industrial real estate include:
Passive Income. In real estate investing terminology, passive income is earnings generated through cash flow rental property, limited partnership, or other enterprises in which a person is not actively involved. This essentially means that after initial upfront (sometimes substantial) financial investment, an ongoing stream of passive income will result through leasing agreements. Demand for industrial property has been outpacing supply, which ultimately points to a bullish market.
Lower maintenance. Most industrial properties require less upkeep and tenant improvements than other commercial investments. Additionally, many leases are triple-net, which means the tenant is responsible for maintenance expenses.
Longer rental terms. Industrial real estate investors typically enjoy lease terms from as little as three years to as much as 10 or more years. The average for most properties is five years. The infrequency of lease renewals allows investors to take advantage of lengthy stretches of stable passive income and cash flow which is a priority for many industrial real estate investors.
Usage flexibility. Many, if not most, industrial properties are essentially a wide-open expanse of space customized to suit the tenant's purpose. The flexibility of these spaces allows them to be easily repurposed for new tenants or to adjust to changes in the market.
Be sure to consider what works best for you when investing in commercial real estate. Working with a qualified commercial real estate broker, can help you make the most of your investment dollars.
Commercial Kentucky is independently owned and operated and is a member of the Cushman & Wakefield Alliance. Contact Cushman & Wakefield | Commercial Kentucky at 502-589-5150 for your commercial real estate needs. Click here to find out about opportunities in the Louisville market by contacting our industrial team members.
As a leading provider of commercial real estate services in Kentucky and Southern Indiana, Cushman & Wakefield | Commercial Kentucky, Inc. offers a comprehensive array of integrated real estate services to owners, users and investors of real estate.
Blake Scinta is a licensed commercial real estate broker and Senior Associate with Cushman & Wakefield | Commercial Kentucky. Well-versed in the industrial sector and a member of the local Certified Commercial Investment Member (CCIM) chapter, Scinta is a commercial real estate expert in the Greater Louisville, Kentucky market.