By Brent Dolen – Senior Director, Cushman & Wakefield | Commercial Kentucky
In the two years since the onset of the Covid-19 pandemic, the traditional office experience has changed forever. Statistics released from security company Kastle Systems indicate that overall office utilization is still only around 30%. What may come as a surprise, however, is that nationwide office leasing activity is increasing, with positive net leasing absorption recorded in many major markets over the past few quarters. This apparent dichotomy is indicative of a hybrid model where employees are splitting time between the office and remote locations, which will be the norm for most companies.
Many companies are now evaluating their office lease commitments to better reflect this reality. Companies are moving away from the densely occupied, open floorplan design that has been the trend for the better part of the past decade with layouts that favor more private office spaces with a mixture of collaborative meeting spaces. Other companies are shifting towards smaller, nimbler leased footprints that feature desk sharing and hoteling, allowing employees on a more flexible work schedule to be in the office only a few days per week.
Though it may look different from a few years ago, most companies who leased office space before the pandemic will continue to do so in the future. From an organizational and management standpoint, the physical office environment will continue to be the best venue for interpersonal relationship building and facilitation of ideas – we learn and communicate at our best when we are face-to-face with our colleagues, customers and clients. Critically, the physical office is the primary recruiting and training ground for the next generation of company employees. It's where company culture, loyalty and personality are created and reinforced.
Many employees have grown accustomed to the freedom and flexibility of remote work options, and they do not want to return full-time to bland, stale office space. To remain competitive, employers need to carefully consider building services and amenities when leasing office space and focus on those properties whose features can help accentuate brand-specific vision and company culture. What are some amenities, features and practices that set spaces apart?
Health, safety and sanitization procedures: People are now remarkably well educated about disease transmissibility in public spaces. Coming to the office should not be an event where employees fear sickness or infection. Buildings with modernized filtration and air change systems, hand sanitization stations and an established building regimen to regularly clean often touched solid surfaces (door handles, elevator buttons, etc.) should now be the rule, not the exception.
Shared training and conference facilities: Most leased office spaces have their own conference rooms, but oftentimes those spaces can be too small to host large company meetings or gatherings. Look for buildings with common training or conference amenities with movable furniture that can accommodate larger groups. Conference facilities equipped with modern video conferencing and smart board technology are a major plus.
On-site fitness centers: Great workspaces should also encourage healthy habits. Having an on-site fitness center is a convenient perk that saves employees the cost and hassle of having to go off-site to get their workout in. Fitness centers should also have private changing rooms and showers – no one wants to work out and go back to their office a hot, sweaty mess.
Coffee, food and vending options: Having refreshment options available in the building is a supreme convenience for employees who increasingly find themselves on-the-go. If your employees are only going to be in the office part of the time, the ability to grab a good cup of coffee or a bite to eat on site saves the inconvenience of having to go offsite.
Visitor management and security: Coming to the office should be a safe experience for employees, without exception. On-site security personnel provide employees and guests with a comfort level that is vital to most businesses.
Outdoor greenspace and break areas: Let's face it, everyone can use a breath of fresh air during a hard day at the office. Many buildings now incorporate greenspaces, landscaped terraces and walking paths to provide office users a chance to get outside during the workday. Studies show that interacting with nature relieves stress, boosts productivity and increases creativity – all great attributes that contribute to healthy, happy employees and a vibrant, thriving workplace.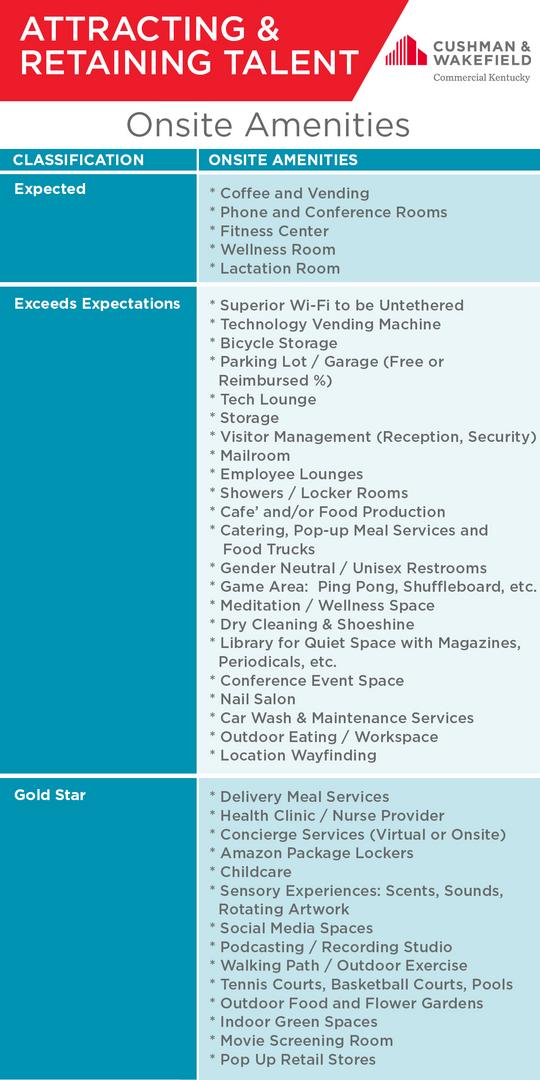 If you are evaluating a new office lease, contact a commercial real estate professional who can locate the best space with the amenities you and your employees need. Brokers are an often-untapped resource for companies looking for new spaces.
Commercial Kentucky is independently owned and operated and is a member of the Cushman & Wakefield Alliance. Contact Cushman & Wakefield | Commercial Kentucky at (502) 589-5150 for your commercial real estate needs. Find out more about our Tenant Representation services at commercialkentucky.com/tenant-representation.
As a leading provider of commercial real estate services in Kentucky and Southern Indiana, Cushman & Wakefield | Commercial Kentucky, Inc. offers a comprehensive array of integrated real estate services to owners, users and investors of real estate.
Brent Dolen is a licensed commercial real estate broker and Senior Director with Cushman & Wakefield | Commercial Kentucky. A former president of the local Certified Commercial Investment Member (CCIM) chapter, frequent industry panelist and media contact, Dolen is a commercial real estate expert in the Louisville, Kentucky, market.